Top 5 Cryptocurrency News Sites📰 To Read Daily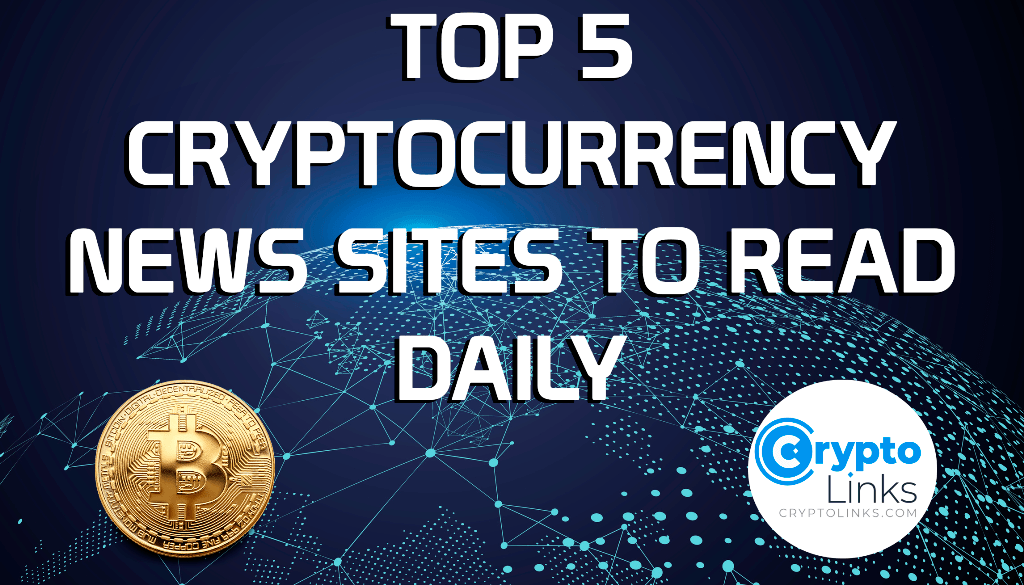 Things move fast in the cryptocurrency world and keeping up to date is no easy task. Following top-quality cryptocurrency news sites can make a big difference in staying up to date with the most important developments. With cryptocurrencies still a growing industry, many news outlets are competing to report on the news and it can be difficult to discern which ones can be trusted and which ones are reporting subpar information.
Top quality news reporting will deepen your understanding of the cryptocurrency ecosystem and inform the decisions you make in the industry. Poor reporting will take you in the opposite direction. It will provide more confusion than clarity. In this article, we delve into the top news sites that can help you stay informed about what is going on in the cryptocurrency and blockchain industry.
CoinTelegraph is the dominant news site in the cryptocurrency industry. It is more than just news outlets. It is a global franchise that operates in regions globally and is available in eight languages. The mission of CoinTelegraph is "to inform, educate, and share valuable information". The company was founded in December of 2013 and is completely privately owned and funded.
CoinTelegraph generates content in a number of different ways. They report on recent news developments in both written and video format. They also provide educational guides on some of the complicated concepts which confuse readers such as second layer solutions like the Lightning network.
In addition to reporting on the news, CoinTelegraph operates a number of other services including a retail store, jobs marketplace, and an ICO calendar. CoinTelegraph is the leading news site in the industry with over 57 million page views per month.
CoinDesk is the closest competitor of CoinTelegraph. It was launched around the same time as CoinTelegraph and was founded by Shakil Khan. The company was acquired by Digital Currency Group, a venture capital group that invests in bitcoin and blockchain companies, in 2016. CoinDesk operates in regions globally and is available in both English and Korean. Coindesk achieves over 22 million page views per month. In addition to reporting on the news, CoinDesk provides analysis tools. This includes price indexes, network data, and industry research.
CoinDesk also organises the largest conference that takes place in the cryptocurrency industry, Consensus. Consensus has been operating for several years and was estimated to have generated $17 million in revenue in 2017.
Bitcoin.com is a business that operates a number of services in the bitcoin and blockchain area including wallet services, exchange services, and blockchain data services. Bitcoin.com also have their own news outlet news.bitcoin.com. The company is owned by Roger Ver, a huge advocate for Bitcoin Cash. The news site has over 9.8 million page views per month.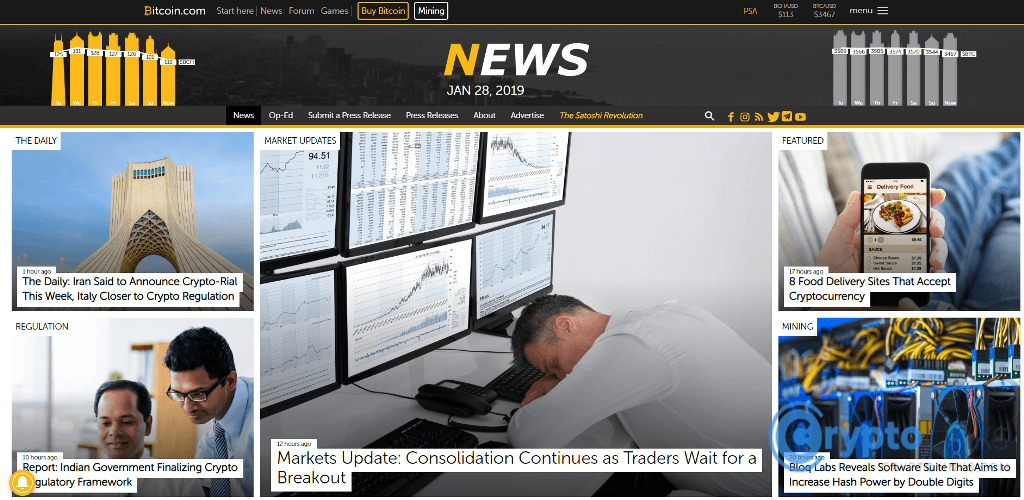 Bitcoin.com is one of the more popular news sites and has a high volume of reporting. However, many in the community are also against it due to the company being operated by Roger Ver. With Ver operating this large news site along with being one of the main advocates for Bitcoin Cash, the news can have a bias towards reporting positively on bitcoin cash and negatively on other projects.
Bitcoin Magazine
Bitcoin magazine is one of the leading cryptocurrency websites that focuses on the technical aspects of cryptocurrency. The co-founder of Ethereum, Vitalik Buterin, also co-founded Bitcoin Magazine before leaving to focus on Ethereum. The content from Bitcoin Magazine is different from the news content that will be found on other news sites. The content focuses less on reporting and more on delving deeper into topics and ideas surrounding bitcoin.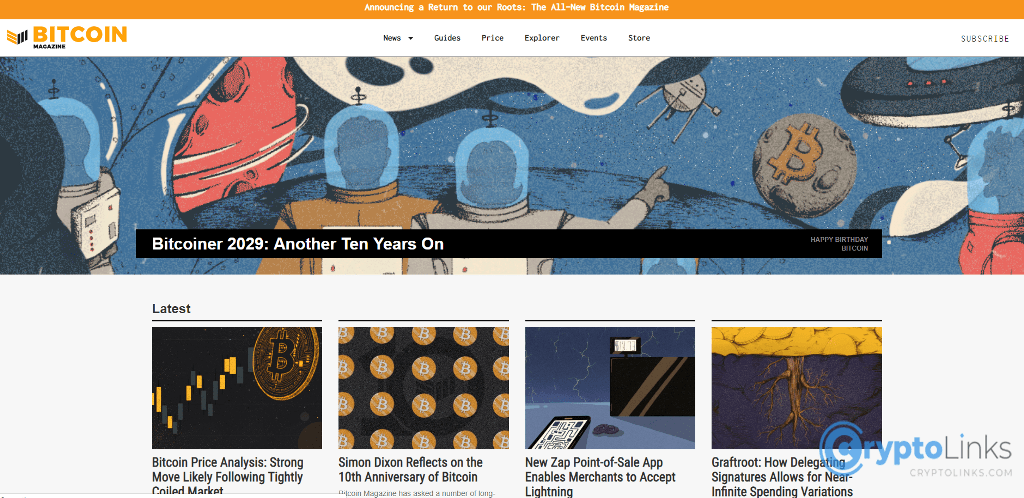 Similar to CoinTelegraph, Bitcoin Magazine has educational guides which clearly explain some of the more complicated concepts in cryptocurrencies. They also provide an explorer on the bitcoin blockchain and they have a retail store where users can buy past issues of the magazine and items of clothing. Users can also find price data and charts where they can conduct technical analyses. Bitcoin Magazine initially sold print versions but transitioned to publishing their content online only. They have recently announced plans to return to producing print versions in the Summer of 2019.
CryptoCoinNews is a step back to more traditional cryptocurrency reporting. It has a similar structure to Coindesk, CoinTelegraph, and Bitcoin.com news by reporting on the latest news developments in the cryptocurrency space. The website achieves 10 million page views per month and has over 200 thousand followers on Twitter. This makes it one of the most popular news outlets reporting on cryptocurrencies.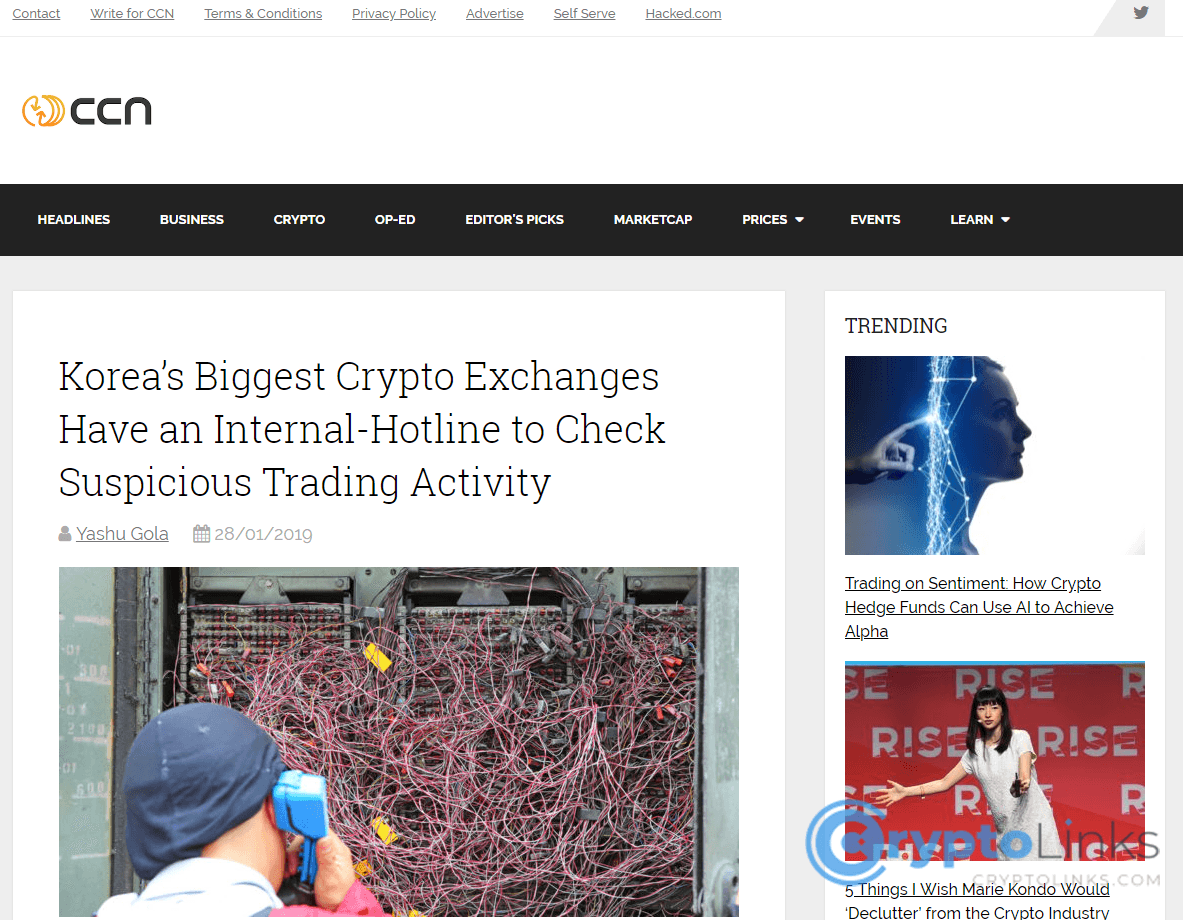 One of the main differences about CCN compared to other news sites is CCN also report on the traditional markets as well as the cryptocurrency markets. CCN also provides data on price and market cap. Price data is provided for different cryptocurrencies against a number of different fiat currencies and traders also have access to technical analysis tools on the website.
You can also watch video about Top 5 Cryptocurrency News sites