Coinigy Vs TradingView – The leading technical analysis software compared
Back To Home
Coinigy Vs TradingView – The leading technical analysis software compared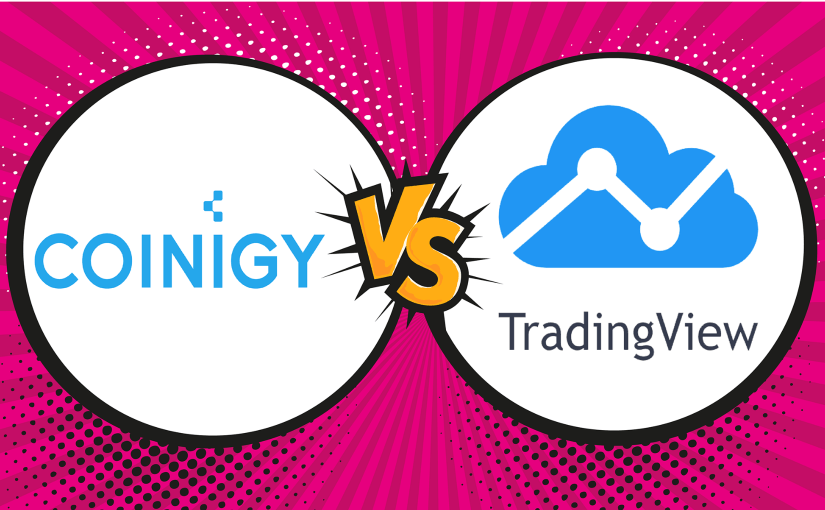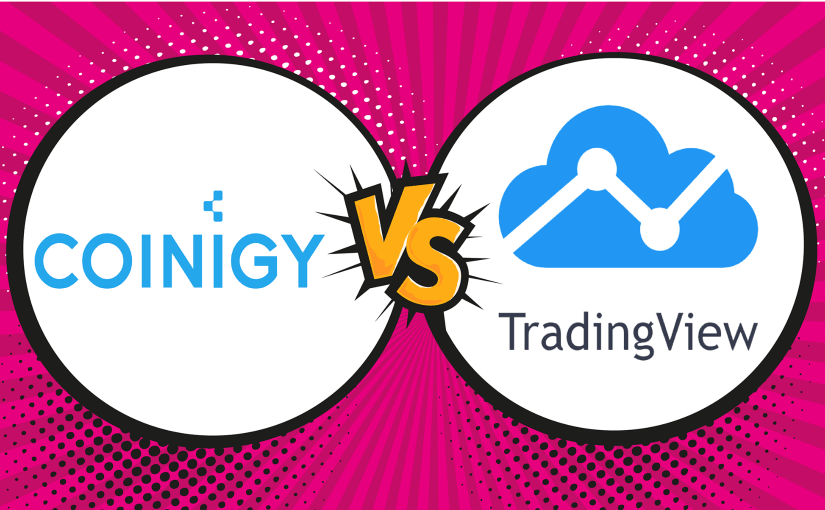 Crypto traders are individuals who rely on intuitive and analytic tools to capitalize on crypto price fluctuations. They draw from live and historical price movements to project future market trends – a process known as technical analysis. To do this, traders have to scrutinize charts and use indicators like Bollinger Bands and moving averages. As simple as this sounds, it entails some technical know-how to guarantee the viability of the insight garnered from market signals.
This is where charting platforms enter the fray. Knowing how to use these trading solutions is a core requirement for crypto traders. As such, there are several crypto trading tools available today, which is why it is becoming a tad difficult to separate the quality ones from mediocre solutions. However, two platforms, Coinigy and TradingView, have distinguished themselves as perhaps the most efficient and popular trading platforms. they both enable charting solutions for traders to perform crypto technical analysis and track market movements.
Here, we will carry out a Coinigy vs TradingView review, explore the workings of each, and compare their features. We will also reach a verdict as to which of the two stands as the undisputed charting infrastructure.
What Is Tradingview?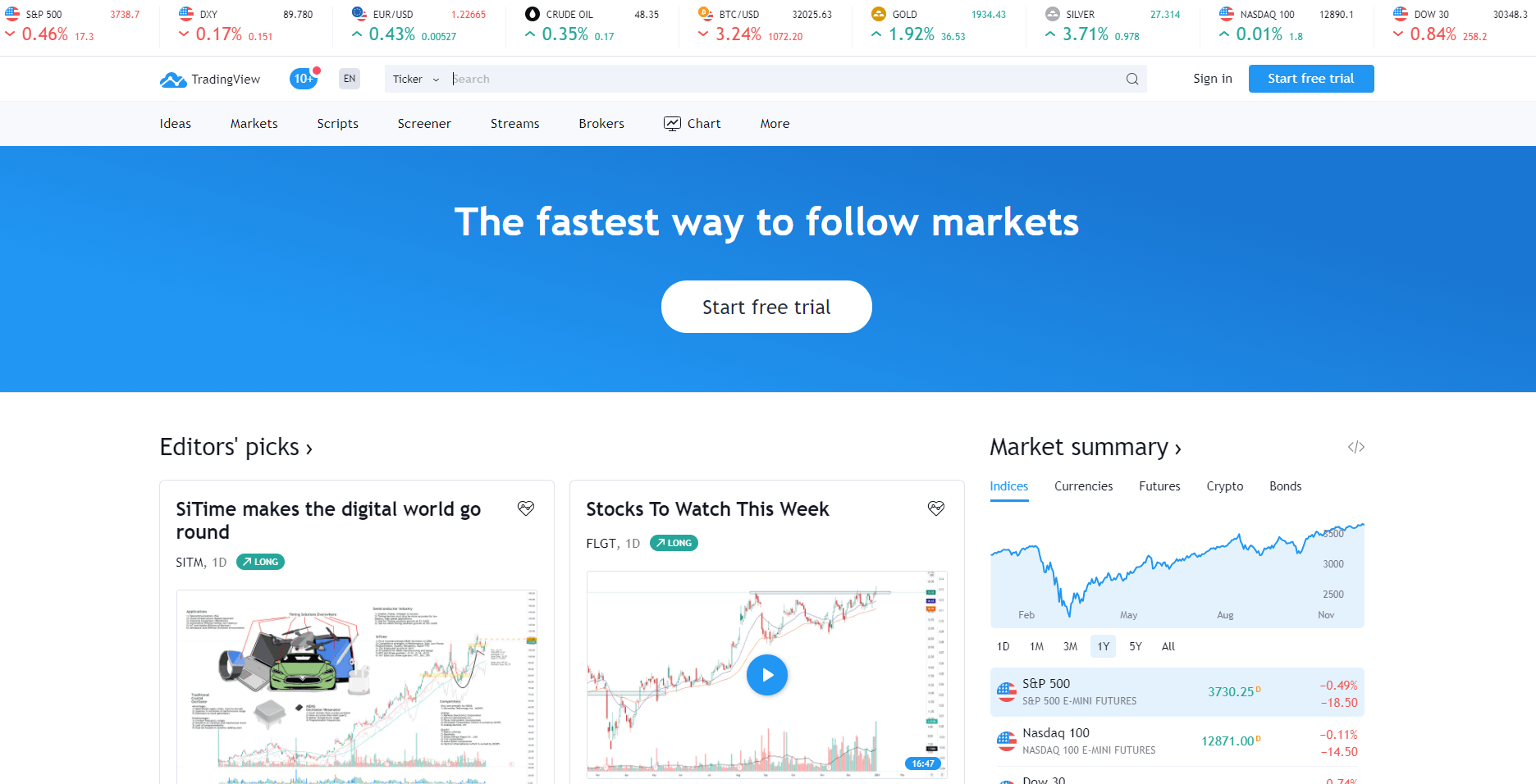 Founded in 2011, TradingView is one of the most utilized analysis platforms in the investment world. It offers various tools to carry out technical analysis on multiple markets including, bonds, stocks, cryptocurrencies, indices, futures, commodities, and much more. Here, investors or traders can access a long list of drawing tools or indicators for their technical analysis needs.
Also, the New York-based company enables a community-based system where users can learn and share technical analysis or collaborate with other traders. While TradingView software supports several market sectors, users of the platform have a strong affinity for cryptocurrency-based analysis. This notion is evident in the number of crypto price analysis posts found on the website. For every quality content added to the website, the analysts responsible for such posts stand a chance of building a strong following or earning a side income. Likewise, it provides an enabling environment for analyzing market sentiments, exploring veteran traders' opinions, and incorporating new ideas or strategies.
According to TradingView's website, investors have published 5.7 million trading ideas and created over 31.5 million charts. The platform encourages a community-based ecosystem, where traders can collaborate effortlessly and access all the data needed to analyze capital markets accurately. Notably, the platform uses its programming language, Pine Scripts. While this entails that users get acquainted with a unique coding style, the community model of TradingView makes learning easier. Besides, it offers a multi-window feature. With this, traders can explore multiple markets concurrently.
What Is Coinigy?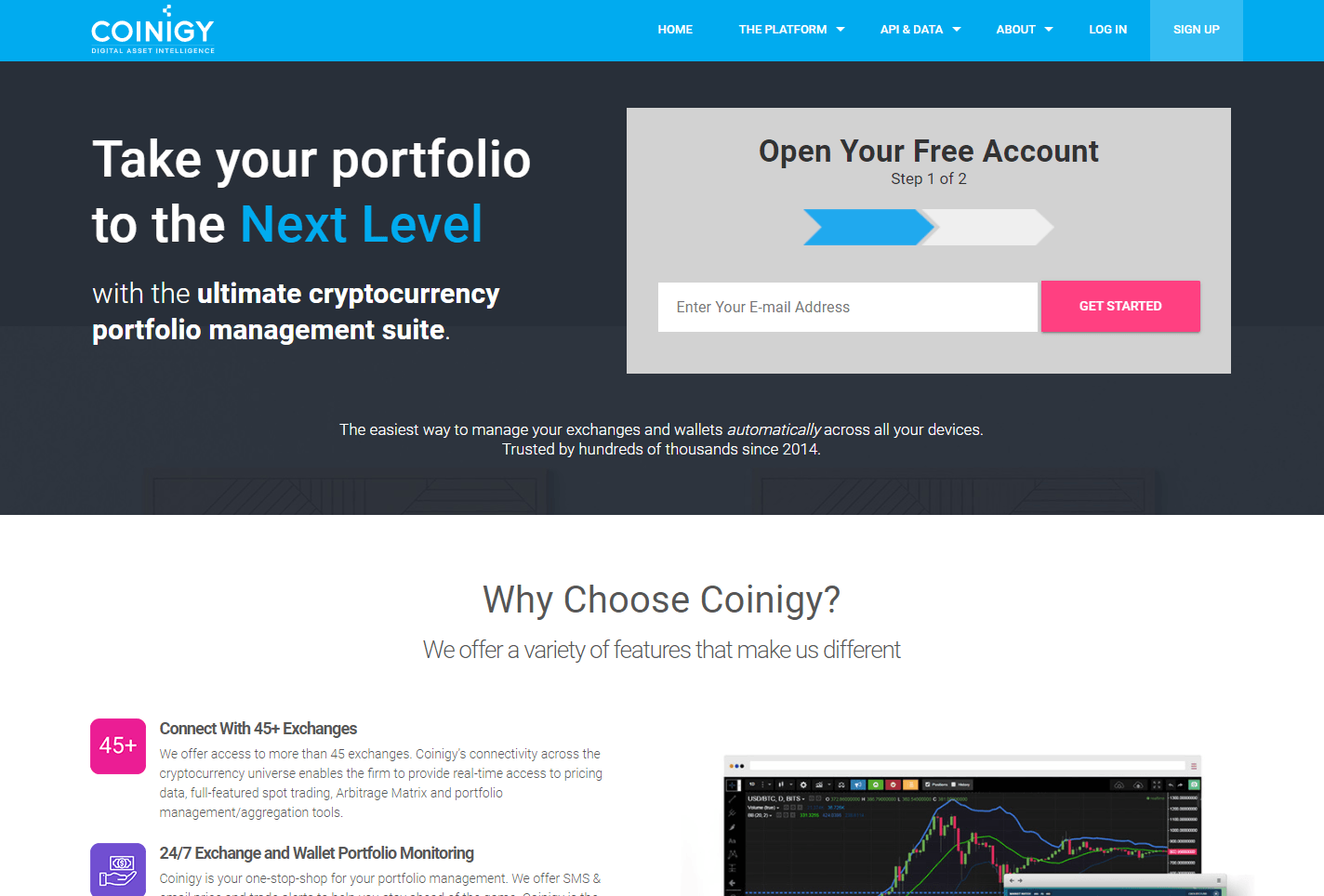 Based in Milwaukee, Coinigy launched in 2013. It is also charting web-based and mobile software that is very much similar to TradingView, albeit with one or two unique features that help it carve a niche for itself. For one, this platform was solely designed to cater to crypto traders. Therefore, it comes with options that allow users to sync charts from their chosen crypto exchange. This functionality is a plus for traders who want to stay ahead of the often-unstable crypto market. More importantly, users can execute trades and track balances on their exchange account via APIs without delays. Also, it has a news aggregating system that allows users to get familiar with breaking events and explore how they impact the prices of cryptocurrencies.
Unlike TradingView, Coinigy supports a broad array of exchanges and cryptocurrencies, which is why it has emerged as one of the core tools adopted by crypto traders. The technical analysis software supports 40 trading websites and over 6,000 digital assets. As such, traders can access data and charts of small market cap coins. Since the platform supports a broad range of exchanges, it is perfect for arbitrage trading. This trading strategy requires investors to capitalize on the price variances of digital assets on trading websites.
Furthermore, it has an economy data layout, which details and provides links to vital information like projects' websites, social media communities, whitepapers, miner rewards, and much more.
TradingView VS Coinigy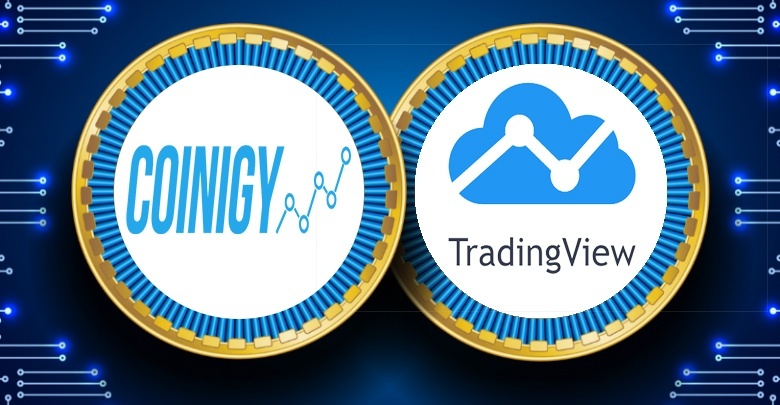 Now that you have understood the basic operations of both platforms, the next section will discuss the factors that define the efficacy of both trading software. As well, it will examine the performances of both platforms based on these recommendations.
What Is the Quality of The Charting Software?
Coinigy and TradingView are aware of the importance of charting tools to traders. And they have gone about offering these tools to their users in two distinct ways. For TradingView, it opts for HTML5 charts, which let users pick from over 50 intuitive drawing tools to work on various chart layouts. While this a given, it also caters to a larger demographic of traders since it supports multiple markets. As such, it is easy for users with diversified portfolios to manage and analyze the market trends of their holdings on just one platform.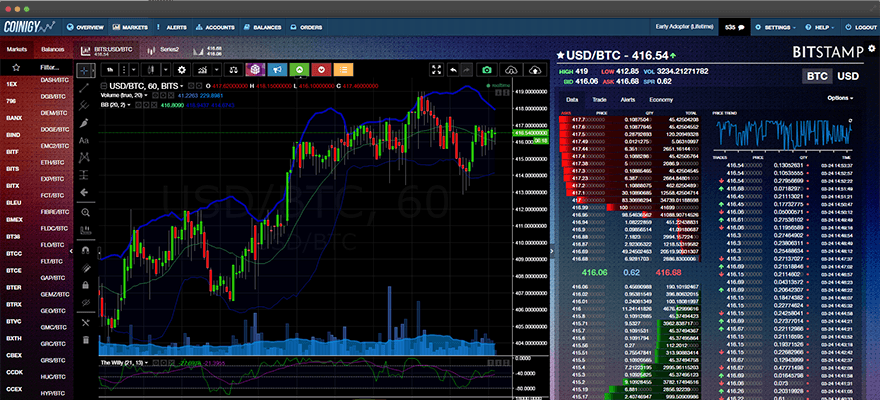 Moreover, TradingView does much more than provide technical analysis infrastructure. There is a news layout available on the platform, which users can survey to perform fundamental analysis.
In contrast to TradingView, Coinigy streamlines its services for crypto traders, which might initially come as a limitation. A closer look reveals that it is one of the strengths of Coinigy. This platform supports a myriad of cryptocurrencies as opposed to TradingView's capacity to support popular coins only. In light of this, Coinigy is suitable for traders who invest most of their funds in the burgeoning crypto market. Likewise, Coinigy does not support HTML5. Instead, it permits users to integrate the charts of their favorite exchanges and execute trades.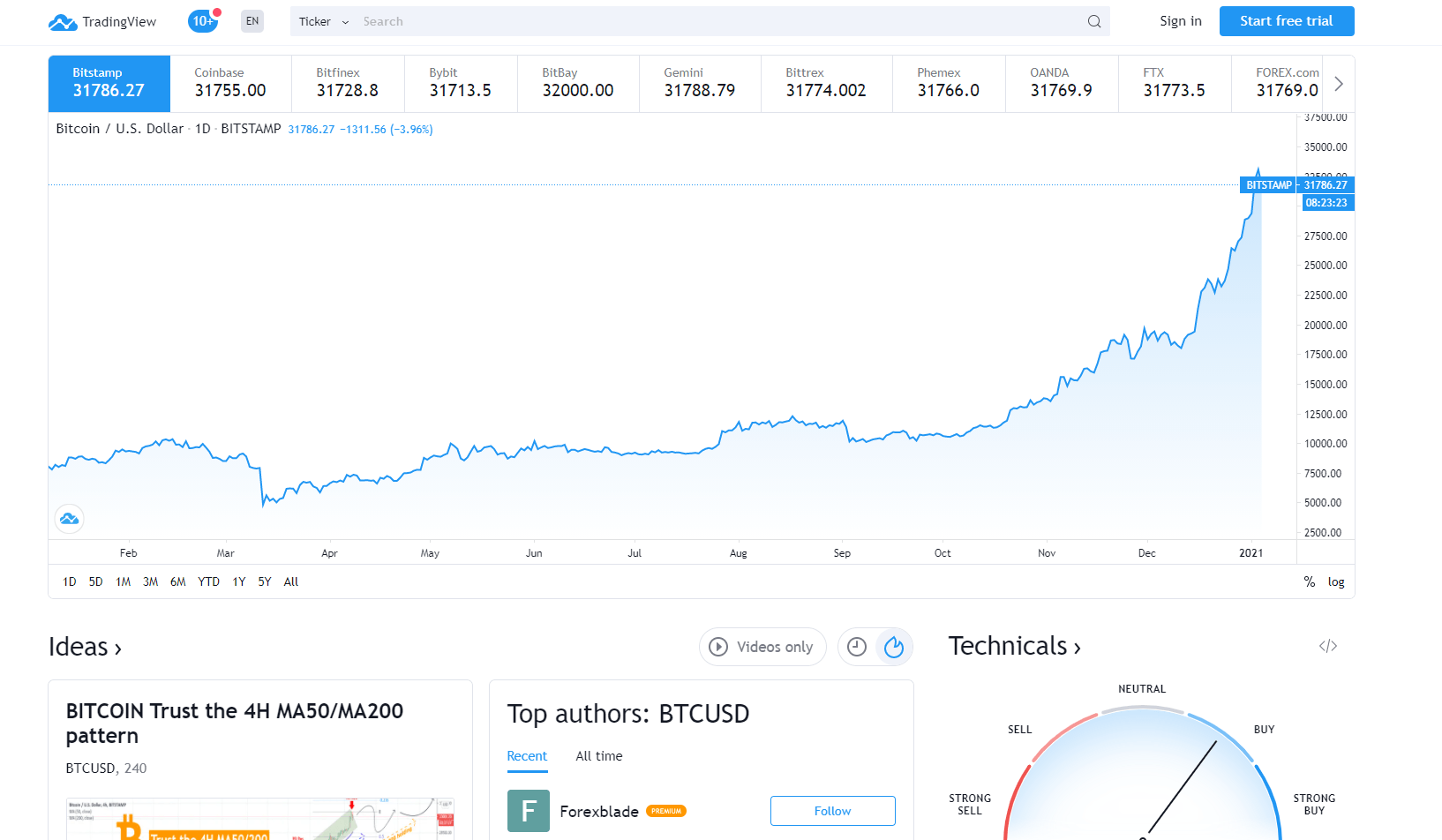 Although this might seem like a downside to some, crypto traders revel in this charting model. It allows them to compare prices on different exchanges and profit from their disparities. From the information gathered from Coinigy's website, the platform supports over 40 exchanges' charts, and users can trade on 11 of these exchanges directly from Coinigy. Also, it supports the checking of real-time balances on 23 exchanges.
Other applications supported on the application includes Google Sheets for easy computation and statistical calculations, crypto Ticker for quick browser updates and integrations, and ArbMatrix for added arbitrage functionalities. From our research, it was clear that Coinigy primarily functions as a bridge between crypto traders, exchanges, and sets of powerful tools required to analyze the data mined from various platforms. More so, it incorporates TradingView charting tools and indicators for comprehensive analysis.
What About Their Pricing?
Pricing would always come to play when comparing these platforms, as both have set up more than one subscription plan for their customers. In this section, we will consider the details of these plans and the pricing of each.
One could argue that as a crypto trader, the user's experience and the volume of trades executed should determine the appropriate subscription plan.
In the case of TradingView, it offers Basic, Pro, Pro+, and Premium multi-tier subscription plans that range from $0.00 to $59.95 per month. Also, it has a 30-day free trial plan for each, which allows users to get a feel of the opportunities embedded in each package. As the name implies, subscribers of the Basic Plan have restricted access to features found on TradingView. For instance, the Basic plan permits only one chart per tab, in contrast to the 8 charts per tab offered to the Premium plan subscribers. The Pro and Pro+ plans cater to users who do not need the over-the-top features of the Premium Plan, and yet, would require a bit more than what the Basic Plan offers. On the other hand, the Premium plan comes with a publish invite-only functionality, which allows subscribers to monetize their analysis. Hence, they can build a client base that makes a one-off payment between the $100 to $500 range for exclusive access to top-notch technical analysis and price prediction charts.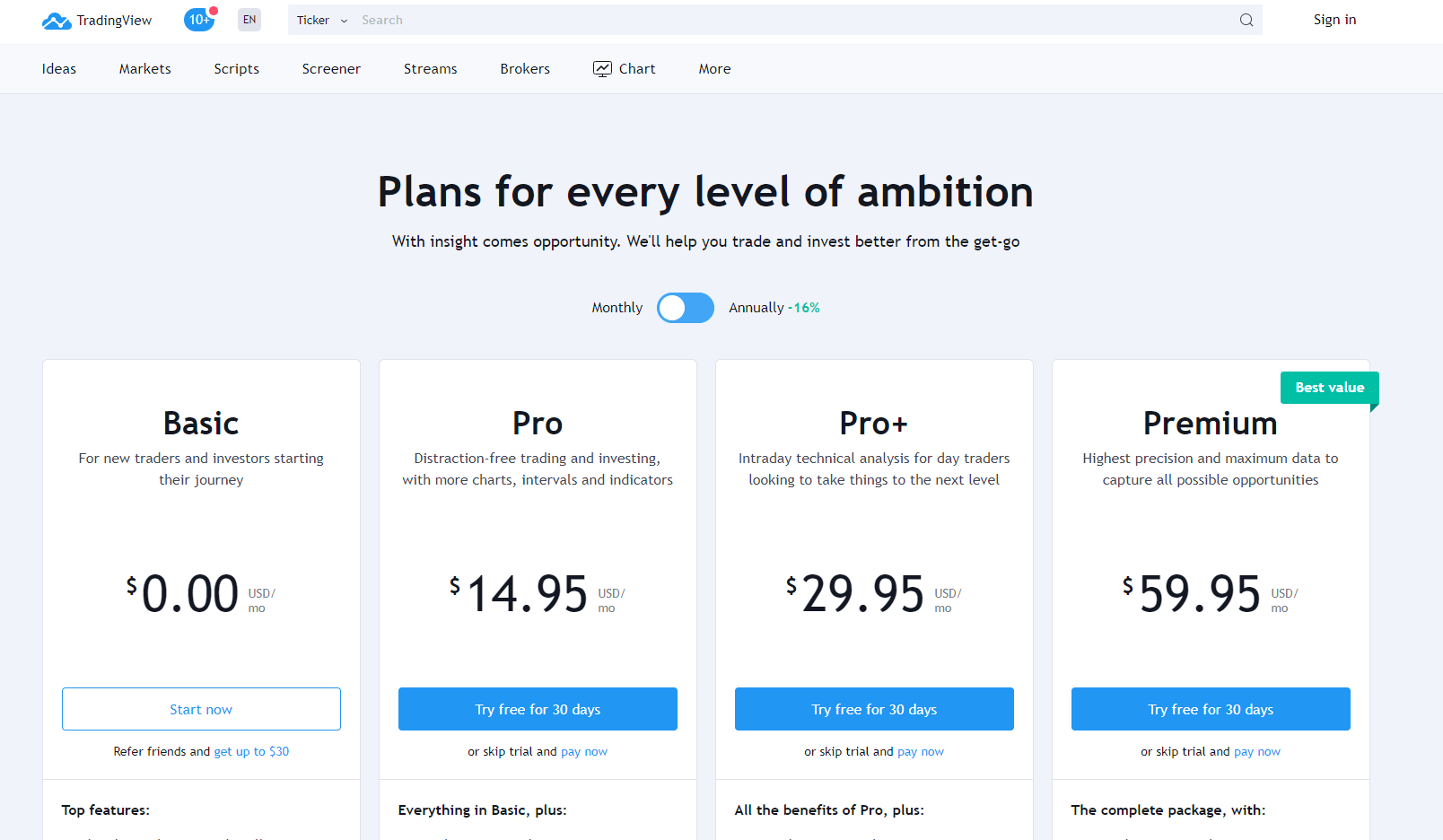 Interestingly, there is a secret plan called "The Rookies" that goes for $5. This package is accessible to those that started with a trial package and are in the process of canceling the monthly billing at the end of the trial period.
Conversely, Coinigy sticks to a three-tiered subscription package that includes a Starter Account, a Pro Trader plan, and an API Developer Pro plan. According to the platform's website, the Starter Account is a 30-day full-featured free trial plan where users can access 24/7 portfolio tracking features, mobile app access, email alerts, security support systems, and charting with over 75 technical indicators. The Pro Trader plan, which has a $18.66 price tag (when purchased annually), offers extra features in addition to the ones listed under the Starter Account. Subscribers are eligible for unlimited API, unlimited chart layouts, advanced order types, and unlimited session length on the ArbMatrix app. Then there is the API Developer Pro with a subscription fee of $99.99. This plan comes with all of the features accessible to Starter and Pro Trader subscribers, in addition to premium support systems. Developer Pro features backend access to exchanges, which allows traders to implement automated trading for complex limit orders and trades.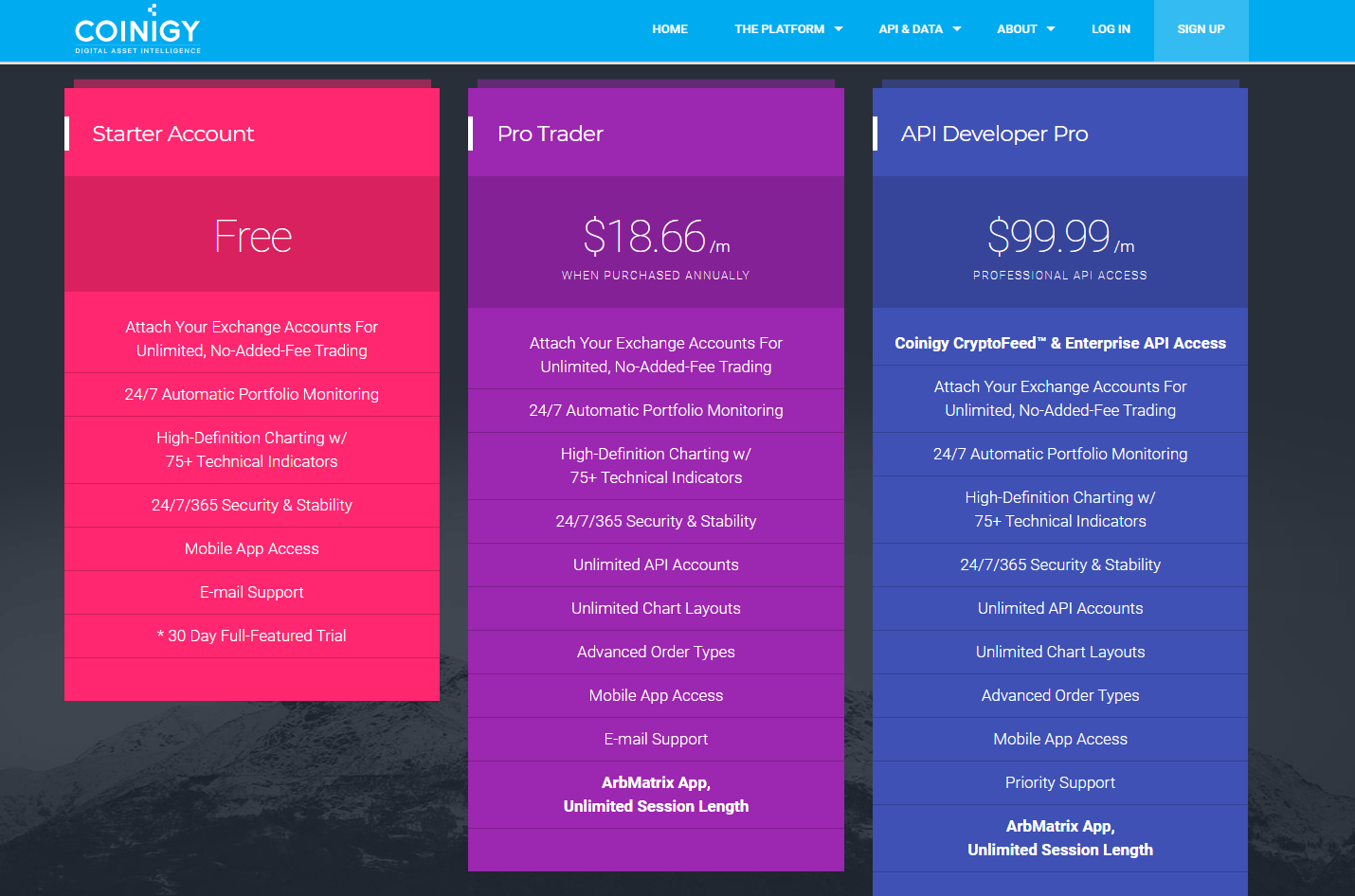 As an added feature, Coinigy sells historical data to traders interested in utilizing past data to establish the viability of their trading bots or skills. Users can select the crypto pairs they want, submit recipient information, pay the charges, and have the historical data sent to their emails instantly. Coinigy sells historical data for as high as $1,000 and more.
Judging by the subscription plans of both platforms, you will agree that Coinigy price plans are a bit on the high.
What about Their Customer Support?
There is no doubt that the trading features on both platforms come with technicalities that may seem complex to new traders. As such, Coinigy and TradingView have set up 24/7 customer services. This assertion spurred us to take a look at the customer service culture of the two platforms under review.
From our research, we discovered that both solutions have dedicated a lot of resources to customer support. This notion holds as Coinigy provides an array of tutorials on how to implement and use the features on its website. Also, the company has an active online presence. At the time of this research, the regularly updated Coinigy Twitter account had over 18,000 followers. Besides, Coinigy's email support is a standard feature offered to all of its customers, regardless of the plan they subscribed to. More remarkably, Coinigy shares its phone number on its web page, which means that it enables phone-based customer support. And, it provides 24/7 customer support that is available in the form of a help desk or via live chat.
The same is true for TradingView. It has a help center on its website where users can access quick fixes to frequently encountered problems. Likewise, it has an active online presence, with its Twitter account boasting a follower base that is 141,000 strong. However, we couldn't find TradingView's customer support helpline while researching its support systems.
Are They Mobile and User-Friendly?
There is an unwritten rule regarding the importance of user-friendly designs and layouts, particularly for loaded websites like the two under review. From what we have learned so far, it is safe to say that both platforms are aware of the role user experience plays in promoting seamless navigation through their maze of features. And so, Coinigy and TradingView adopted simple and yet intuitive designs.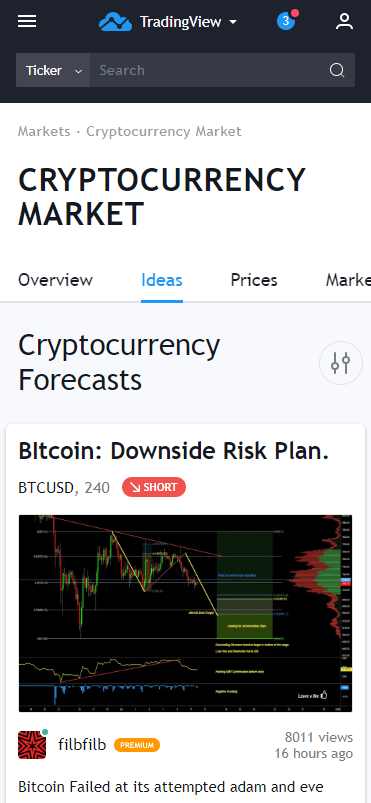 Even though much of the activities of users on its platform entails charting and trading on third-party websites, Coinigy does enough to provide a seamless trading ecosystem. TradingView follows a similar trend, as it takes a simple approach to technical analysis. Thanks to the enablement of an analysis sharing tool, TradingView helps new entrants fast-track their learning curve or access timely signals.
Seeing that both Coinigy and TradingView value a user-friendly business structure, it is not surprising that they have launched mobile apps to promote their accessibility. With this, users can carry out several tasks on their mobile phones since the crypto market waits for no one. In other words, users can receive notifications and alerts on moving averages, track price fluctuations, or enter trades without having to sit in front of a computer screen all day. Both trading services are available for iOS and Android devices.
Do They Provide Alerts and Notifications?
It is common knowledge that notifications and alerts are crucial to crypto traders. Therefore, Coinigy and TradingView have established alert systems as one of the core features to help users stay abreast of developments in the crypto markets. TradingView, on the one hand, offers audio signals, email alerts, SMS alerts, and visual popups. On the other hand, Coinigy makes do with email-alerts, in-app notifications, SMS alerts, and price alerts. And so, users can set alerts for Coinigy moving average alerts for a particular cryptocurrency.
How Do They Compare Security-Wise?
You will agree that security is a vital aspect of trading solutions. Using one would likely entail that you link your exchange accounts to access some features. This notion holds for Coinigy since it relies on third-party integrations with crypto exchanges. More so, it comes with special portfolio-tracking tools for assets held on crypto wallets. Hence, there is a good reason to be skeptical of the viability of its security systems.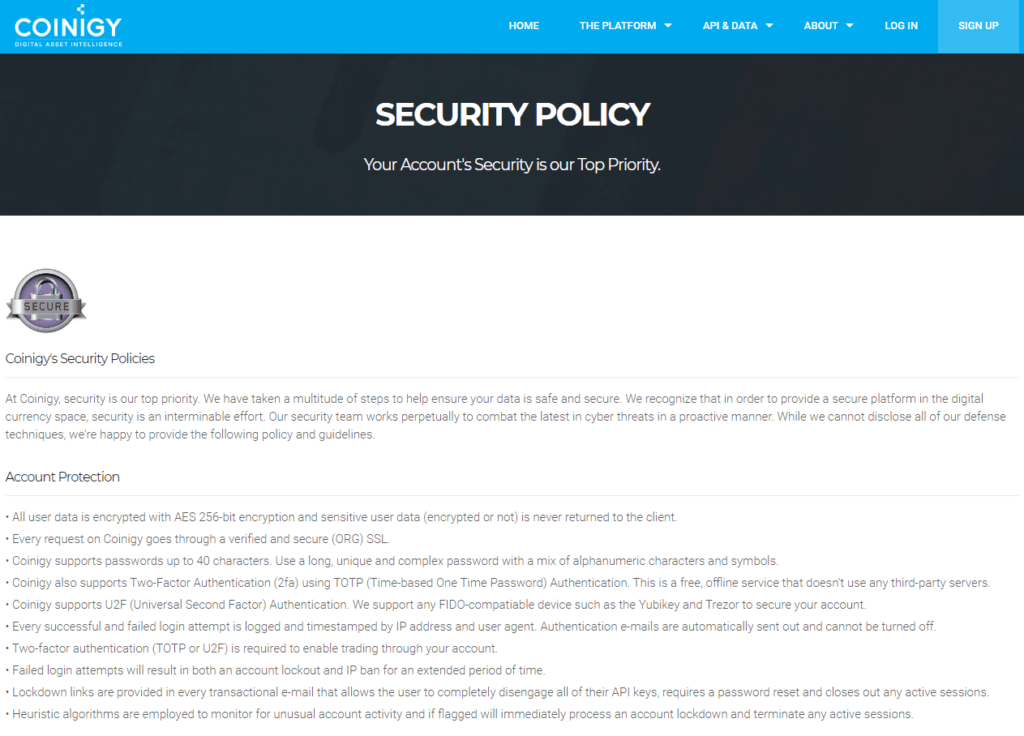 However, according to its website, Coinigy utilizes enterprise-grade security in combination with a multi-tiered server architecture to beef up the safety of its users. Also, there is strong encryption for user data. Besides, it supports 2FA authentication to ensure that details are not susceptible to hacks. While Coinigy charts thrive on third-party integrations, the platform does not handle users' crypto assets directly. Instead, all transactions are executed on exchanges, while Coinigy only enables a multi-exchange ecosystem for users to execute trades on one or more crypto exchanges.
For TradingView, security is also a critical factor. This assertion is evident in its bounty program that rewards people who find and report security vulnerabilities of its platform. As it is with Coinigy, TradingView utilizes two-factor authentication. And since this platform does not necessarily facilitate trades, users are not as susceptible to attacks as those using Coinigy.
Having explored the core workings of the two platforms, the next section will determine their weaknesses and strengths.
What Are the Pros of Tradingview?
Quality charting system: TradingView excels as an all-in-one ecosystem for charting needs. Loaded with HTML5 charts, TradingView offers a wide array of intelligent drawing tools. Also, users can customize charts extensively when they are up to speed with the platform's native programming language.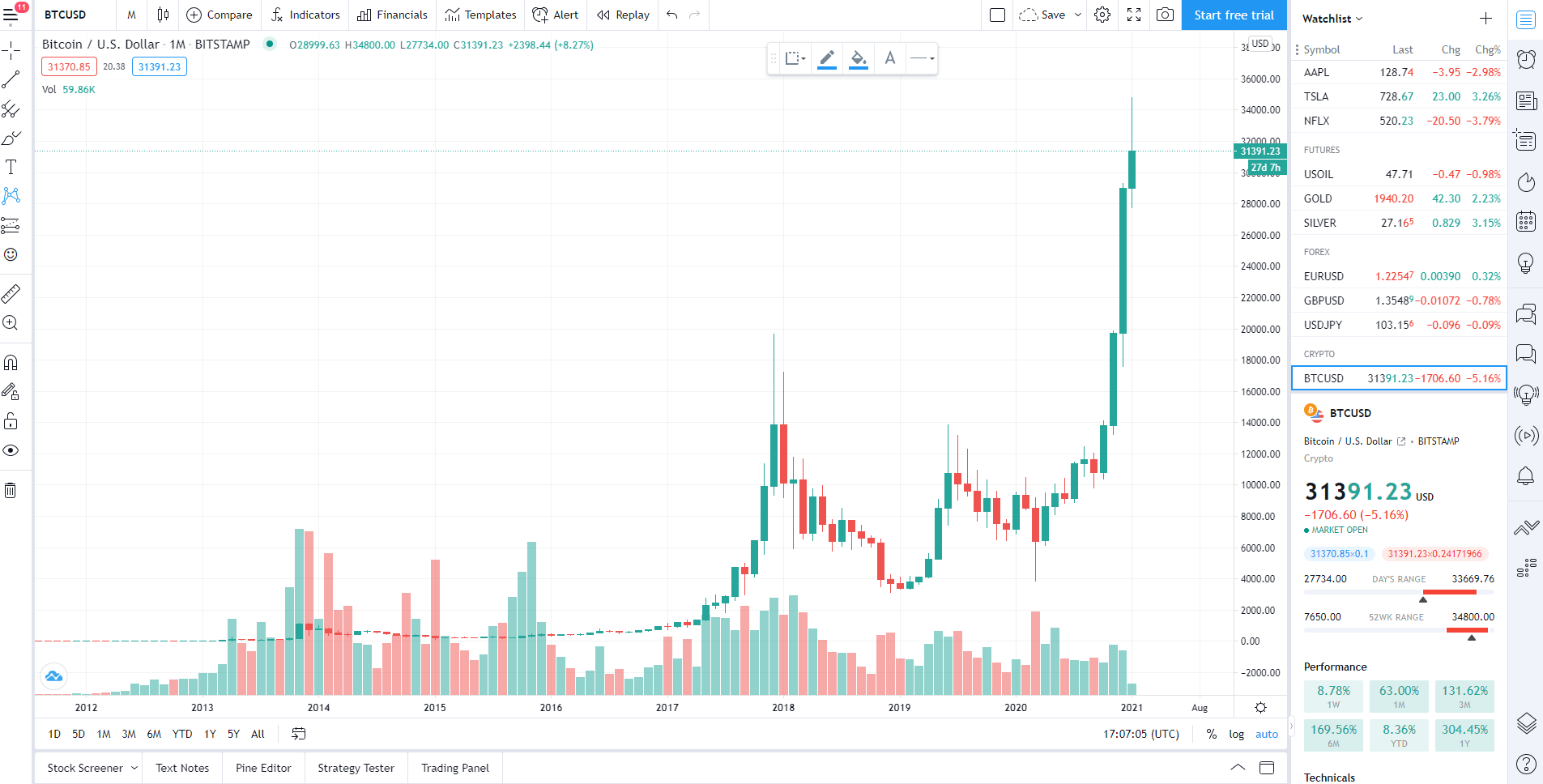 Fair and flexible pricing feature: Bearing in mind TradingView's multi-tiered subscription packages, it is safe to say that it has developed payment plans that suit traders with varying levels of experience and background. Depending on the scope of a trader's activities, they can subscribe to an affordable deal and still access all of the core features required to chart, analyze, and track various markets.
A diverse array of markets: It is worth recalling that TradingView is not a native crypto platform. Hence, it is an established institutional-grade data feeding ecosystem for a long list of markets, including stocks, bonds, and the likes. The possibility of accessing data on multiple markets makes TradingView ideal for traders with diverse portfolios.
A thriving community: As stated earlier, TradingView also doubles as a social network for traders. Therefore, it has a thriving community of traders, which promotes a collaborative approach to analysis. This business model is particularly advantageous to new users as they have a wealth of experience to tap from.
Monetized trading insights: Note that the Premium subscription plan allows traders to monetize content. In other words, an experienced trader can set restrictions on the people allowed to view their posts (trading insights or analysis) and give access to interested users for a fixed price.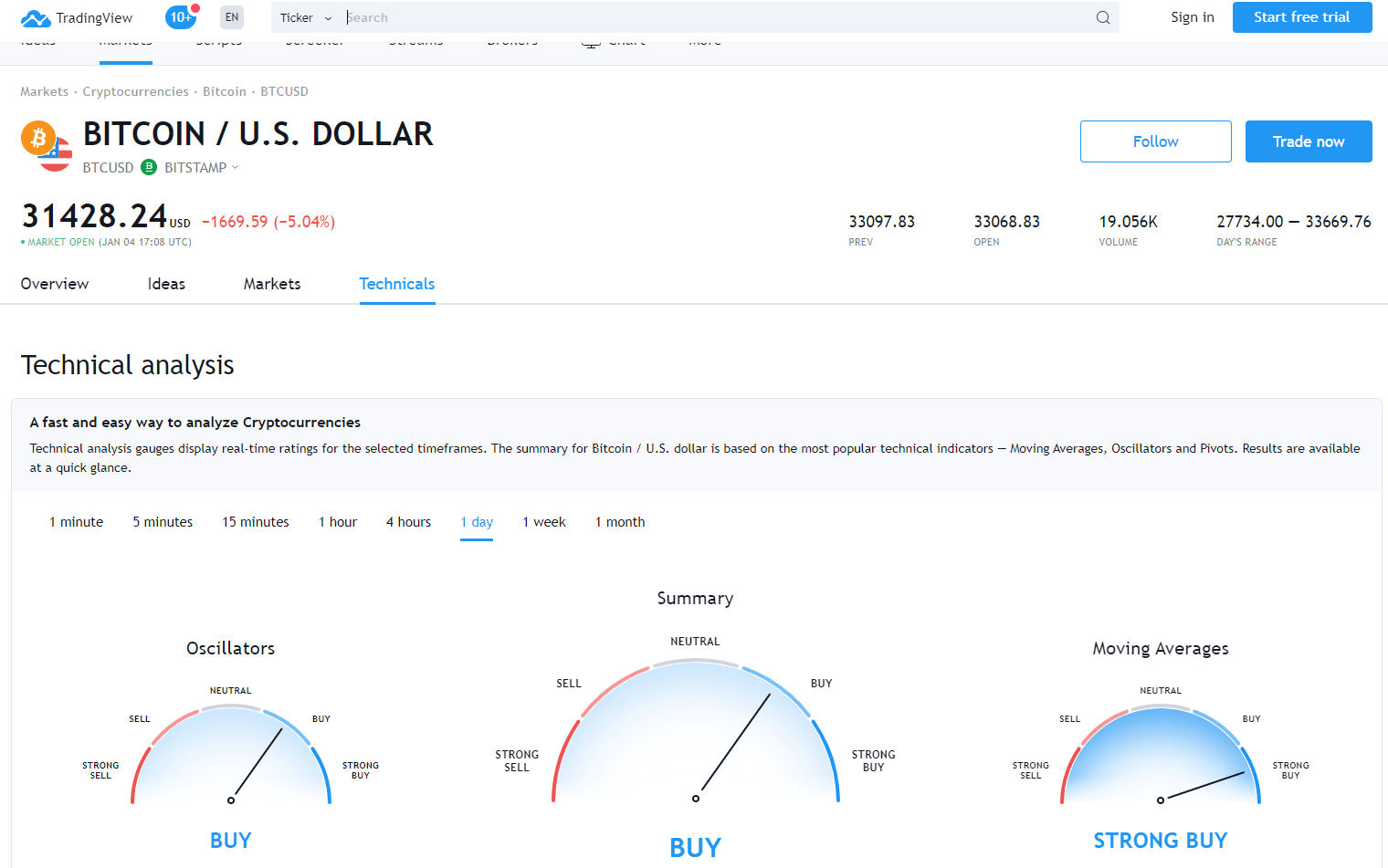 Quality customer support: TradingView seems determined to offer quick assistance and support to users. This notion stems from its decision to make a library of guides available on its websites. More importantly, the communal system adopted ensures that experienced users can respond to queries and explain new or technical features.
Superior alert system: Knowing fully well the importance of alerts, TradingView has implemented impressive means of notifying users of market or price movements. The platform comes with visual popups, SMS alerts, email alerts, and even audio signals.
What Are the Cons of TradingView?
Limited in crypto options: Ironically, the extensive nature of TradingView is both an advantage and a weakness. Since it supports multiple markets, it is almost impossible to double down on the crypto space and deliver comprehensive charting tools for a broad range of digital assets. The same limitation restricts TradingView to a handful of brokers and no direct integrations with crypto exchanges.
What Are the Pros of Coinigy?
Intuitive integrations with best cryptocurrency exchanges and digital assets: Perhaps, the most appealing feature of the Coinigy platform is its API and integration system. With a total of 40 exchanges supported, Coinigy has cemented its place as the most prominent charting infrastructure for crypto traders. This achievement is further strengthened by the platform's compatibility with even some of the most obscure digital assets in the market. Notably, these integrations empower users to view charts from multiple exchanges and carry out selected operations. In some cases, traders can check their balances and track their portfolio. Likewise, some can execute trades directly from the Coinigy platform. These added features serve as compelling arguments for Coinigy's viability as an all-round crypto platform.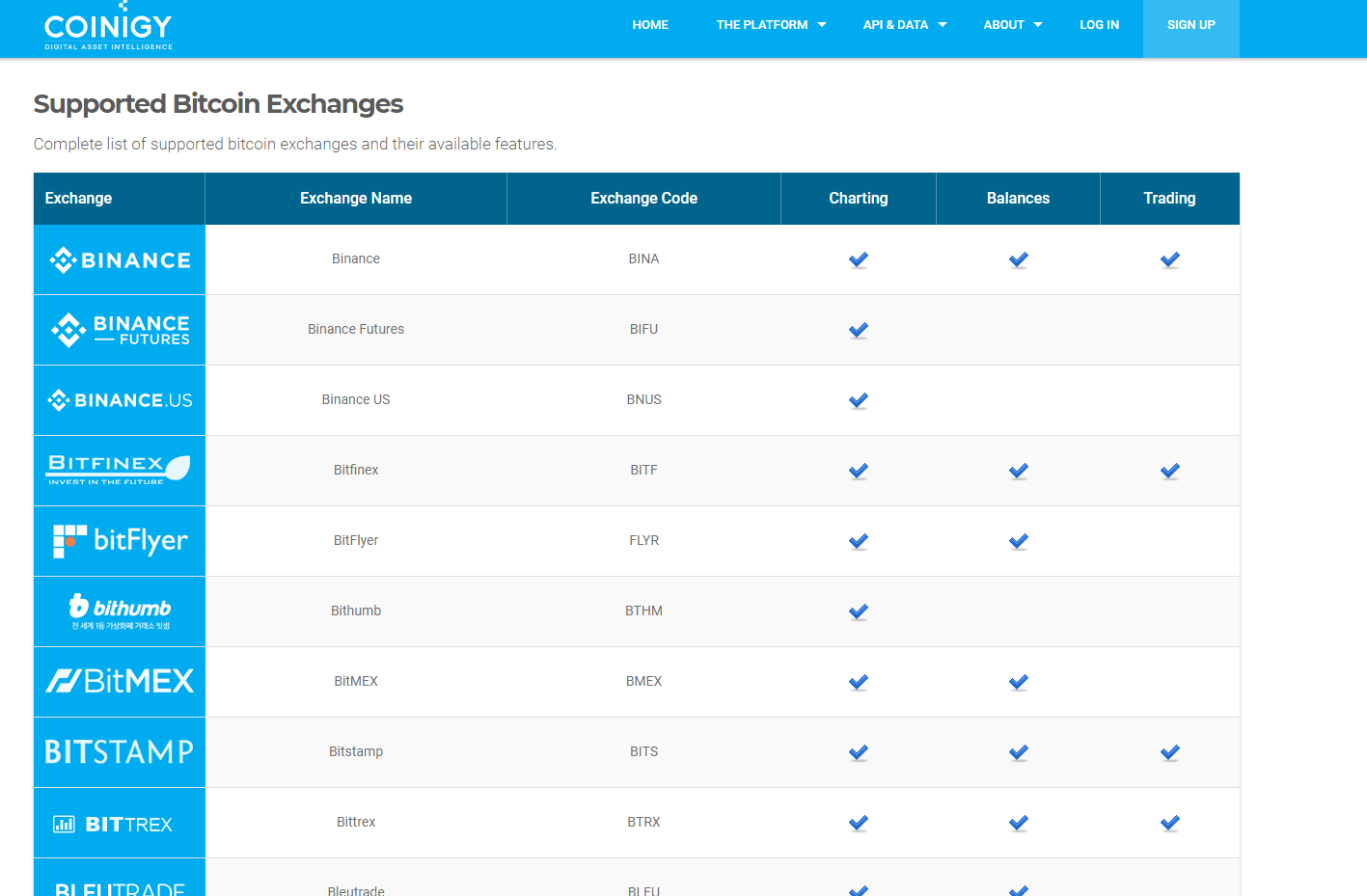 Strong customer service: Owing to Coinigy's quick response time to queries and the array of channels available to users, it is clear that it has left no stone unturned when it comes to customer support. The platform offers live chat and a help desk for 24/7 assistance. Interestingly, there is also a phone number accessible on the website.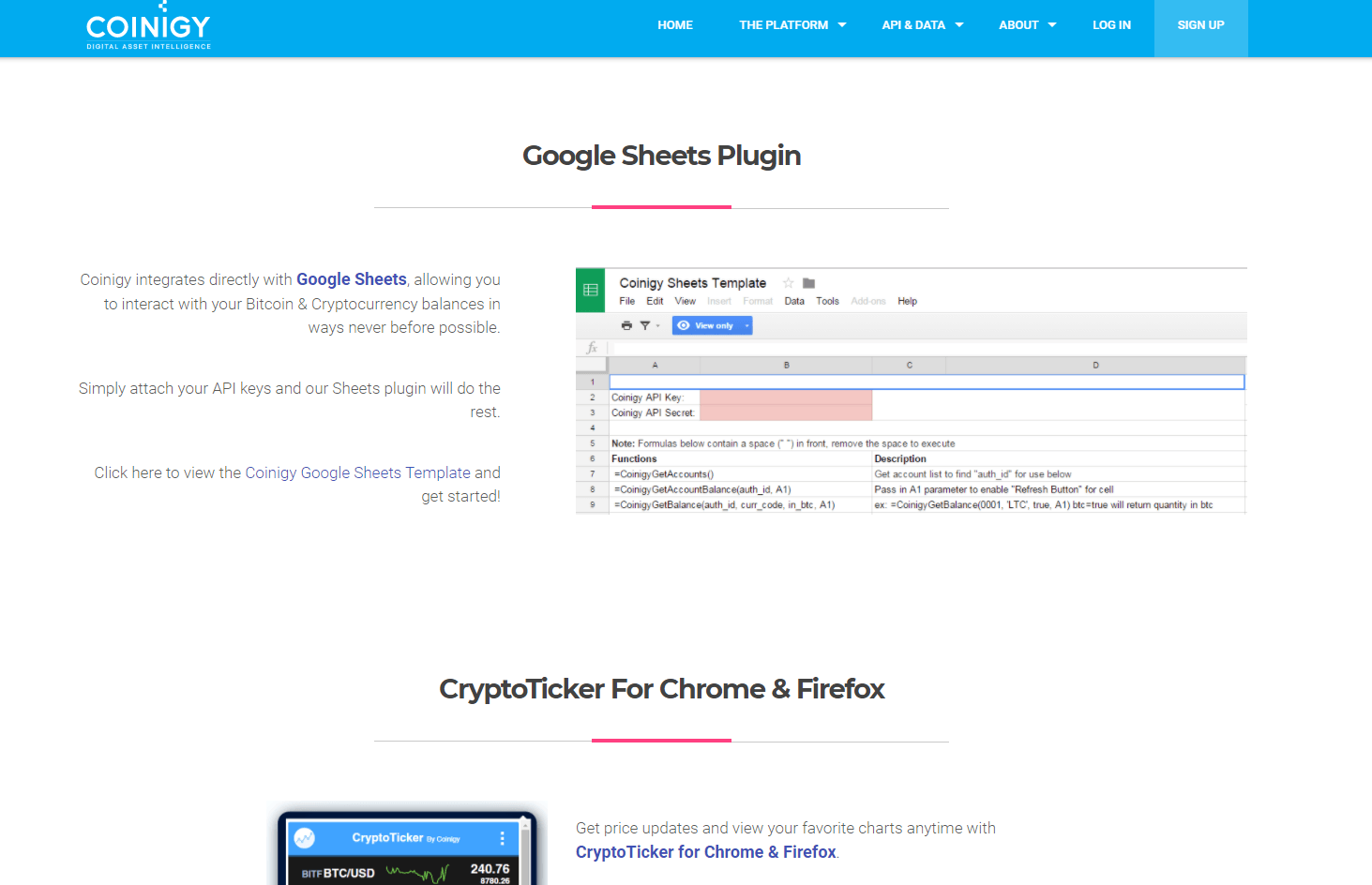 Commendable alert system: The alert system of Coinigy includes in-app notifications, SMS, and email alerts. All these implementations ensure that users are a step ahead of crypto trends.
Ideal for arbitrage trading: Coinigy syncs with 40 crypto exchanges and enables the opportunity for arbitrage trading. In essence, a trader can profit off the price variance of digital assets on multiple platforms. Unsurprisingly, Coinigy has expanded the scope of the feature by integrating the ArbMatrix app.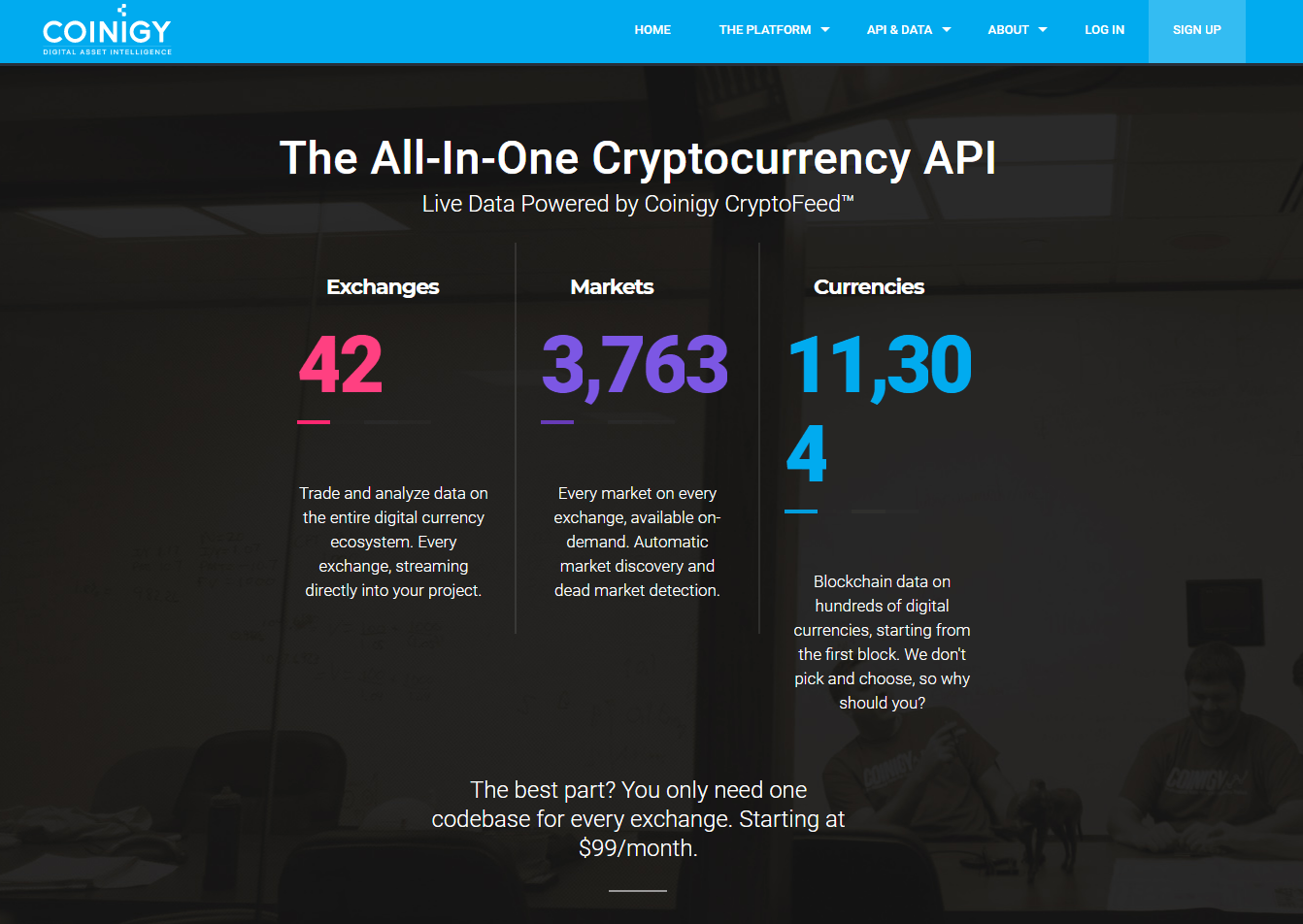 What Are the Cons of Coinigy?
Limited to the crypto scene: Unfortunately, this solution will likely not emerge as the top choice for individuals interested in exploring a broad range of capital markets. Although the crypto-focused nature of Coinigy is a positive for digital asset traders, it may not attract the more traditional market-inclined investors.
No in-built community channel: Unlike TradingView, Coinigy does not provide a content exchange infrastructure where users can share insights or trade knowledge. Hence, users interested in this functionality must rely on external community channels to interact with other traders and determine market sentiments.
Verdict: TradingView VS Coinigy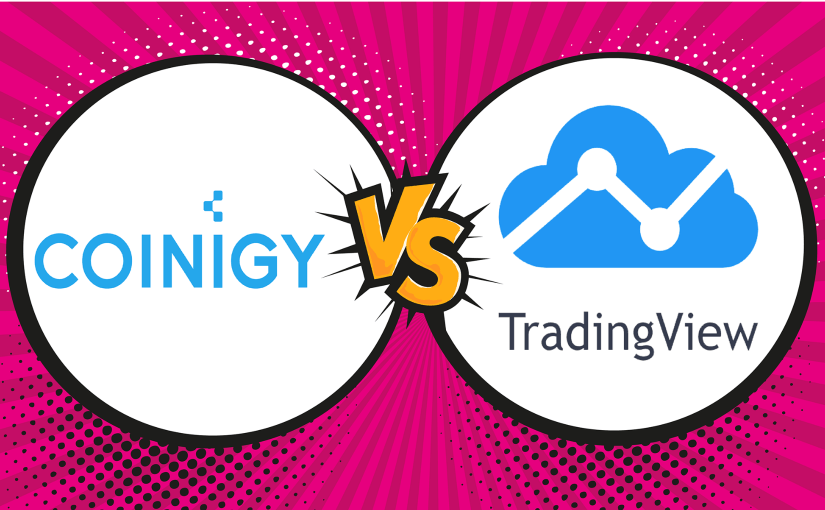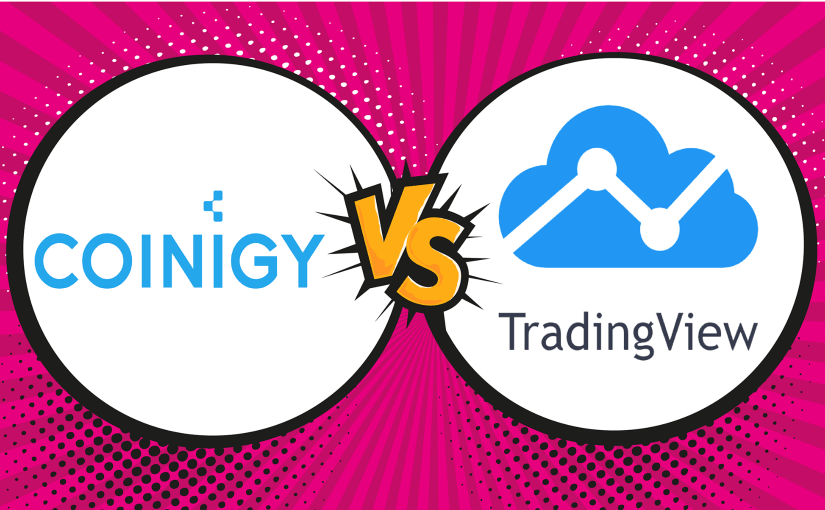 After exploring the core workings, strengths, and weaknesses of both platforms, we can conclude which is the more superior platform. We have segmented our conclusion to help our readers make informed decisions.
Charting: Without any doubt, TradingView has a more extensive charting infrastructure, thanks to its HTML5 charts and its over 50 intelligent drawing tools.
Customer support: Coinigy possesses a more robust customer support system. This verdict stems from its decision to provide 24/7 help channels and a phone number.
Alerts: TradingView has an upper hand when it comes to alerts. This is due to its wide array of notification channels that deliver in-app and offline alerts.
Integrations: Coinigy is purpose-built for advanced and seamless integrations. Hence, it makes sense that it offers the most exposure to the crypto market via APIs. It also helps that users can carry out core operations on their exchanges without leaving the Coinigy platform.
Pricing: TradingView is somewhat affordable compared to Coinigy. Due to the pricing of the subscription packages of both platforms, it is safe to say that the latter is a more flexible and cheap option. However, note that they offer a slightly different scope of charting services, and it is advisable to consider the suitability of such solutions before making a personal decision on which is more cost-efficient.
Final Thoughts
After exploring the features of Coinigy and TradingView, we found that both platforms offer impeccable trading services, albeit with slightly different strategies. On the one hand, Coinigy chooses to fixate on facilitating crypto trading services while TradingView, on the other hand, enables a broader ecosystem for traders. Hence, it was a tad difficult to rate one platform above the other. Both platforms have strengths and weaknesses, which eventually cancels out the advantage that one has over the other.
Based on our research, Coinigy excels in its operations streamlined to cater to crypto traders. Similarly, TradingView takes charting to new heights with its community-based ecosystem that promotes the sharing and learning of the fundamentals of trading.
Which of the two should you choose?
Well, the answer to this question is not as straightforward as you would have expected. We advise that you base your decision on the nature of trading activities you are looking to adopt. If you have your portfolio distributed across several markets, then TradingView is the ideal choice for you. However, if it is crypto trading that you want to focus on, Coinigy is the right fit.
Nonetheless, do not forget to consider other factors explored in this review. For one, the pricing and lowdown of the subscription plans available on each platform should also help you conclude on the right platform to choose.
I also suggest reading the article about Top 25 Most Profitable Cryptocurrencies to see how profitable can you be in the crypto world with the right analysis and knowledge.